Governors
gOVERNORS
Mr D Hewson – Chair of Governors/Co-opted Governor
Mrs S Jones – LA Governor
Mrs H Parrish – Co-opted Governor
Mr J Ryan – Co-opted Governor
Mrs H Stewart – Co-opted Governor
Mr Christopher Carey - Co-opted Governor
Miss A Pendleton – Staff Governor
Mr M Eaves-Seeley – Parent Governor
Mr P Murphy – Parent Governor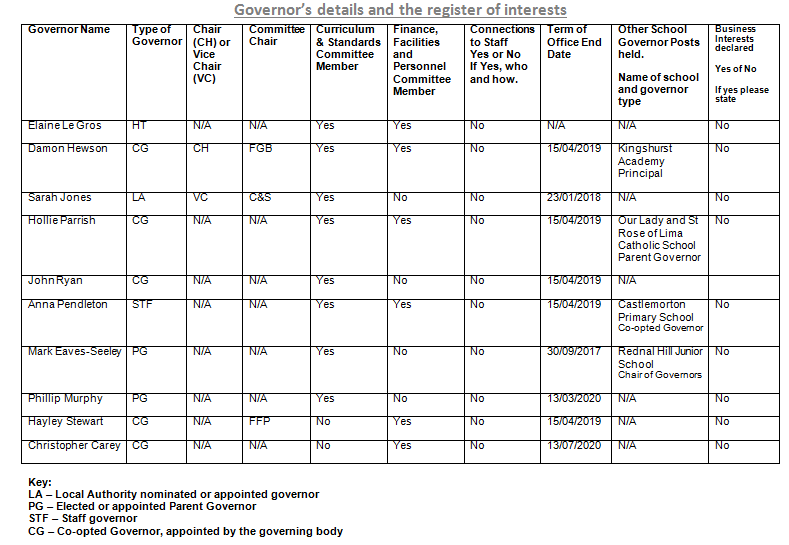 Annual Governance Statement

Rednal Hill Infant School Governing Body works to ensure that the children who attend the school are nurtured and cared for, and are given the best start in life.
They work to ensure that the school provides a high quality of education with excellent teaching and learning and a stimulating range of extra-curricular activities, thereby, ensuring that every child has the provision to achieve their full potential. By doing so, this prepares them for the next steps in their education, enabling them to contribute in a positive manner to life in the local community.

Part of the Governing Body's core strategic function is to hold the Headteacher to account for the educational performance of the school, its pupils and staff and to oversee the financial performance of the school, making sure its money is well spent. This will be achieved by rigorous monitoring of the School Development Plan, School Improvement Plan and pupil data.

Teachers will be provided with appropriate professional development and monitored to ensure that the teaching they deliver is of the highest standard. The Governing Body is itself responsible for ensuring that the training of its own individual members is regularly updated and that self-assessment appraisal and skills audits are completed on an annual basis.

Objectives for 2016 - 2017
To set and monitor the Strategic Development and performance of the school.
To maintain pupil numbers at the school.
To ensure the school provides excellent teaching and learning opportunities by attracting and retaining well qualified and motivated staff.
To use the Pupil Premium funding to its best possible effect to ensure increased access to additional resources for those who need it.
To use the Sporting Grant to involve all children in fitness and fun sporting activities and for the training of staff in coaching where appropriate.
To continue to give children the opportunity to develop themselves beyond the formal curriculum.
To ensure effective financial management of the school.
To ensure that the school continues to provide a safe and welcoming environment for pupils, staff and visitors alike.
To ensure effective governance of the school.
To provide for the spiritual, moral, social and cultural development (SMSC) of the children.
Action plan:
That the School Self Evaluation Form (SEF) is updated regularly and to complete a shadow action plan.
That the Schools Improvement Plan (SIP) is monitored regularly.
The school's finances are monitored and that the school remains in budget.
That data provided by the school, LA and DfE are monitored and actioned as necessary.
The career development and training of the teachers is continual and relevant.
Teaching is monitored to ensure the highest quality possible.
The school remains a safe environment for the staff and children.
Governors attend relevant training to continue their effectiveness.
Committee Membership

The Governors are made up of 10 people from different parts of the school community which ensures a sufficient diversity of views and experience are represented:
Parent Governors are selected by election from parents and carers from the school
Staff Governors are selected by election from teaching and support staff paid to work at the school
Local Authority Governors are appointed by the Local Authority and may be Councillors
Co-opted Governors are appointed by the Governing Body with particular skills or experience
Each Governor's term of office is four years. The Full Governing Body meets once a term; additionally there are two sub committees which also meet once a term:
* Curriculum & Standards
* Finance, Facilities & Personnel
Governors' Responsibilities for Teaching and Learning include:
Achievement:
Monitoring and reviewing information on School Performance to include Raise Online and Data Dashboard.
Monitoring and reviewing school targets.
Monitoring and reviewing in year progress for all year groups and all groups of pupils.
Comparing school performance against national data.
Reporting to parents according to statutory requirements.
Monitoring achievement for all groups of pupils (inc. pupil premium).
Monitoring pupils work and carry out pupil conversations.
Monitoring school target setting systems and how this is reported to parents.
Teaching and Learning:
Reviewing Raise Online/Data Dashboard, ensuring the school is meeting standards.
Ensuring targeted support and action plans are in place for all teachers who are not at least good.
Monitoring and reviewing quality of teaching across the school.
Monitoring teaching for groups of pupils (inc. pupil premium).
Monitoring intervention groups for all groups of pupils.
Monitoring homework arrangements.
Curriculum:
Ensuring the school is meeting National Curriculum requirements and to review the Curriculum Policy Statement ensuring it meets pupil's needs.
Monitoring and reviewing the curriculum with a focus on basic skills.
Monitoring skills coverage of curriculum in all subjects.
Parental engagement.
Reviewing and updating SEF (Self Evaluation Form).
Monitoring and reviewing School Improvement Plan.
Monitoring how school are developing pupil's spiritual, cultural, social and moral awareness.
Governors' Responsibilities for Staffing and Finance include:
Finance:
Producing and approving the annual budget and present it to the full Governing Body for ratification.
Reviewing the actual expenditure and monitoring statements at least once a term.
Receiving and Reviewing financial projections.
Approving expenditure and virements of sums over £10,000; sums below that amount are delegated to the Head Teacher.
Conforming to the Schools Financial Value Standards in Schools.
Assessing the financial progress towards achieving the objectives in the School Improvement Plan.
Reviewing of leases and contracts – including traded services.
Ensuring Best Value principles apply.
Reviewing the financial implications on the budget of the Pay and Conditions document.
Receiving LA Budget and Out turn Statement (Section 122).
Receive the annual accounts and certificate of audit of the School Fund Account and other voluntary funds held within school.
Assessing the schools insurance cover to ensure that it provides adequate protection against risks.
Reviewing and approving the petty cash to be held by the school.
Ensuring LA financial procedures are complied with.
Obtaining quotations with a view to placing contracts/orders.
Staffing:
Considering applications from staff for variation to contract (secondments, early retirements, leave of absence, reduced working hours etc.)
Ensuring all personnel records are held securely.
Reviewing annually the staffing structure of the school ensuring that it meets the requirements of the curriculum and is in line with the School Improvement Plan.
Reviewing staff work/life balance, working conditions and well-being, including the monitoring of absence.
Implementing the Appraisal Policy and monitor teacher appraisal process.
Ensuring implementation of performance management for support staff and moderation of ratings.
Equal Opportunities.
Reviewing impact of staff training and CPD.
Staff Grievance and Discipline (in line with school policies).
Staff dismissal, redundancy and redeployment.
Governors' Responsibilities for Site and Premises include:
Premises Health and Safety:
Review the schools Health and Safety Policy on an annual basis.
Receive a regular report on accident statistics, near misses and incidents of violence or aggression.
Comply with current fire safety legislation and regulations: review fire risk assessment and ensure compliance with recommendations.
Ensure Risk Assessments are carried out and reviewed on a regular basis.
Inspect the school site and buildings to enable maintenance and improvement, including security. (Site visit)
Review and Authorise upcoming offsite activities, ensuring that health and safety planning and risk assessments that have been undertaken for them.
Receive reports and audits from Health and Safety representatives (to include Caretaking and Cleaning).
Ensure staff and Governors undertake appropriate Health and Safety Training.
Ensure that Health and Safety documents and records are up to date: Fire log book; Asbestos on site; Premises log book (PAT Testing, Glazing Inspections, An annual check of PE Equipment/Playground Equipment).
Establish and review an Accessibility Plan.
Review e-safety policy and procedures.
Governors' Responsibilities for Safeguarding includes:
Ensuring all safeguarding procedures are adhered to.
Review the Safeguarding Audit and ensure action plan is implemented.
Behaviour and Attendance:
Review Behaviour Policy and monitor school behaviour.
Review and Monitor attendance data against school and national targets.
Our Governing Body meets every term to provide strategic leadership, accountability and ensure effective and financial management of our school.
The Chair of the Governing Body can be contacted through the Clerk (Denise Brooke) in school. Please either ring the main school telephone number 0121 453 2636, or email office@rednalhill-inf.bham.sch.uk, marking your correspondence for the attention of the Clerk to the Governing Body.
If you would like more information about the roles and responsibilities of the Governing Body, or about being a governor, please call into school to speak to the Clerk to the Governing Body. Further information can be obtained from the National Governors' Association website:
Code of Conduct for Governing Boards (Updated: September 2016)

1) Introduction
Birmingham City Council (BCC) is committed to improving educational outcomes for all children in Birmingham and believes that all effective and safe schools have strong governance at their heart. Governing boards and trusts are responsible for standards in their organisations, and are held to account for this by the Local Authority (in relation to maintained schools), Ofsted and the Department for Education (DfE).
The following Code of Conduct applies to all levels of school governance and promotes effective working practices that are mutually supportive and respectful of roles and responsibilities.
BCC commends this model code of conduct for adoption by maintained school and academy governing boards
2) General
School governors make an invaluable contribution to the lives of our children. The DfE handbook for governors says that to build an effective governing board schools should aim to recruit, induct and continuously develop high calibre governors with relevant skills and experience. Being a governor involves significant amounts of time and energy. The handbook says that all governors should demonstrate the following competences:
• a strong commitment to the role and to improving outcomes for children;
• the inquisitiveness to question and analyse;
• the willingness to learn;
• good inter-personal skills;
• appropriate levels of literacy in English (unless a governing board is prepared to make special arrangements), and
• sufficient numeracy skills to understand basic data.
Where a prospective governor has been or is already a governor of another school, the Chair should speak to the Chair of the other Governing Board to discuss both the skills of the individual and, where appropriate, their capacity to commit sufficient time to serve effectively on another governing board.
BCC expects schools and academies to monitor and account for the circumstances within which it is genuinely appropriate for any individual to be a governor of more than one school in Birmingham at any one time and supports the view of the National Governors Association (NGA) that unless there are genuinely exceptional circumstances, it is not good practice for a governor to serve on more than two governing boards at any one time.
BCC will not approve the nomination of an applicant currently serving on two governing boards to serve as a Local Authority representative governor, or recommend them for appointment by the Governing Board as a co-opted governor.
BCC agrees with the Department for Education (DfE) that with effective succession planning in place, it can be beneficial for strong governors and chairs in particular to move on to another school after a reasonable time (e.g. two terms of office). It encourages governing boards to adopt the position of the NGA that all governors should be restricted to two terms of office (eight years) at the same school. BCC will only nominate individuals to serve as
Local Authority governors on governing boards where they have served for eight years or more when the governing board has demonstrated that there are exceptional circumstances BCC encourages governing boards to adopt the position taken by the NGA that the Chair should hold office for no more than six years at the same school.
3) Standards of conduct, behaviour and practice.
As individual governors we will play our part in setting an ethos of professionalism and high expectations of the governor role. We will:
3.1) Abide by the Seven Principles of Public Life.
The principles are included as an appendix to this Code of Conduct.
3.2) Support the elimination of discrimination and advance equality of opportunity.
We recognise that Birmingham is, outside of London, the UK's most diverse city, made up of a wide range of cultural, faith and other communities. The city benefits from positive community cohesion within this diversity. We share the equality objectives of BCC and will support the school or academy in meeting its Public Sector Equality Duty under The Equality Act 2010, which extends to all protected characteristics - race, disability, sex, age, religion or belief, sexual orientation, pregnancy and maternity, gender reassignment, marriage and civil partnership.
3.3) Ensure that the school or academy follows all relevant policies and procedures to ensure that young people in need of protection are effectively safeguared.
3.4) Remain focused on our three core strategic functions of:
• Ensuring clarity of vision, ethos and strategic direction.
• Holding the Headteacher to account for the educational performance of the school.
• Overseeing the financial performance of the school and making sure its money is well spent.
3.5) Attend meetings and take a full part in the Governing Board.
Accepting office as a governor involves the commitment of significant amounts of time and energy. We will make full efforts to attend all meetings, get to know the school well and respond to opportunities to involve ourselves in school activities.
3.6) Demonstrate a professional attitute.
By attending regularly, being punctual, reading all relevant paperwork before meetings, arriving prepared to make an informed and positive contribution and by observing meeting protocols.
3.7) Work as members of a team and promote effective working relationships.
We will seek to develop effective working relationships with the Headteacher, staff and parents, the Local Authority and other relevant agencies and the community. We will always be mindful of our responsibilities to maintain and develop the ethos and reputation of the school/academy. Our actions within the school/academy and the local community will reflect this. In making or responding to criticism or complaints affecting the school/academy, we will follow the procedures established by the Governing Board or Trustees.
3.8) Express views courteously and be respectful in all communication.
3.9) Respect lines of demarcation and the role of the Headteacher to manage the school.
As governors we accept that our role is strategic and focused on the three core functions referred to in 3.4 of this code. We will not involve ourselves in the day-to-day management of the school/academy or attempt to micromanage senior leaders. Any visits that we undertake at the school/academy will be arranged in advance with relevant staff, be agreed by the Headteacher and be within the framework established by the Governing Board.
3.10) Acknowledge majority decisions, except those that conflict with the Nolan principles of public office, the core functions of the governing board and which may fail to ensure the safety of pupils
We will confront malpractice by speaking up against and bringing to the attention of the relevant authorities' decisions and actions that conflict with the Nolan principles of public office and place pupils at risk.
3.11) Respect the duty of confidentiality to the school, any member of staff or pupil at the school.
When asked to do so by the Governing Board especially in relation to matters concerning individual staff, pupils or parents.
3.12) Undertake induction training as a minimum and any other training that is required to be effective in the role.
We will request, and attend induction training as soon as is reasonably practicable following appointment as new governors. We will continually evaluate our performance as individual governors and undertake any training that is required to be effective in our role
3.13) Declare conflicts of interest
We recognise that a conflict of interest can arise when an individual's personal or family interests conflict with those of the school. We will declare any business, personal or other interest that we have in connection with the Governing Board or the school in general for recording in the register of business interests including the following:
• links with individuals, businesses, contractors etc;
• directorships, shareholdings or other appointments where the school may purchase goods or services from or who are directly employed by the school, and
• interests of related persons such as parent, spouse, co-habitee, child or business partners where influence could be exerted by that person over a governor or a member of staff.
Our governors will withdraw for an appropriate length of time from any meeting or discussion of the Governing Board when our governor colleagues agree that there is a conflict of interest.
3.14) Be Transparent
As the Governing Board our first line of accountability is to parents, the wider school and local community. We will demonstrate transparency by publishing on the school website up to date details of the structure of the Governing Board and any committees, together with the names of our governors and their particular roles and responsibilities within that structure. We will also publish on the school website the register containing the relevant business interests of our governors and details of any other educational establishments they govern. We are committed to publishing an annual statement setting out the key issues that have been faced and addressed by the Governing Board over the last year, including an assessment of the impact of the Governing Board on the school.
Breach of this Code of Conduct
If following investigation it is deemed that this Code of Conduct has been breached by a member of our Governing Board and the matter cannot be resolved in a constructive way, then the Governing Board will consider their suspension or, in some circumstances, removal from the Governing Board.
BCC accepts that, first and foremost, responsibility for good governance rests with schools themselves - and individual governors should be looking to themselves when it comes to accountability for standards of conduct and behavior. However, in addition to this, the Council, the DfE and Ofsted have an obligation to ensure that a robust assurance system exists to support and challenge - including intervening in - schools to ensure they fulfil their responsibilities.
BCC will not hesitate to exercise its statutory powers or refer concerns to the Regional Schools Commissioner in response to governing boards who, in its view, have not acted robustly or decisively to address issues of governor conduct or a breach of this Code of Conduct.
Adopted by the Governing Board of Rednal Hill Infant School on 1st December 2016

Date 01/12/2016
GOVERNOR VISITS
pHILLIP mURPHY
Phillip Murphy – 2nd March 2017
I visited the school today (Thursday 2nd March) on World Book Day; what a treat! Not a single child in the school hadn't dressed up for the occasion; a sign of how engaged the children are in their reading, no doubt.
I met with Bonnie first thing who obliged me with a cup of tea before I joined the school assembly. The purpose of the assembly appeared to be to remind the children as to why their mums and dads had "forgotten" to put their school uniform out the night before – World Book Day. Bonnie led the school through a story about a lost penguin (aptly playing the part of the penguin, I might add) and his journey home, only to find he missed his pal and had to go back to find him. After the story, the real reason for my inclusion for the assembly became apparent… I had to select a child who had made a big effort with their costume! No pressure…
After the assembly I was taken on a tour of the school, starting in the Year 2 classes where various parts of the classroom were explained to me and how they support the children's learning e.g. interactive boards. The highlight of the first part of the tour was Elaine's caravan, but I was sadly locked out at this stage. What impressed me, was the outside-of-the-box thinking of the use of this caravan – primarily it is used to support the children who find reading a chore and appears to be a great way to engage the children in reading. Overall, a very targeted approach to the Pupil Premium and Looked After Children groups and even others who might be in need of some read-juvenation (I'm not sorry).
We then moved through the school to the early year's groups and to see the new build in action. One thing that struck me, was how manageable the noise was with such an open plan area – you wouldn't believe there were 90 kids there. It was refreshing to see the free flow element of the learning classrooms (if they can be called classrooms as they really don't feel like the secluded boxes I used to learn in and call a classroom) from inside to outside and into the communal area in the middle. I was left in Rapunzel's class to have a wander and sit with some of the children to read with them. I started with 2 children reading to me and ended up with 5 children by the end of the story, all telling me the story through actions (more on this later). When we consider the gap shown in the figures of the children's development when they join the school I think that is a clear a display as any as to the improvement of enthusiasm our children have towards reading.
I finished the tour in Year 2 listening to Cain's mum reading or rather, performing a story to the class. The attention of every child was held throughout the story with complete interaction – it's a rare sight to see that much attention out of a group of 6/7 year olds! From a development point of view, I feel this kind of activity can be expanded into other areas of the curriculum.
I wouldn't be doing anyone any justice if I wasn't to talk about the structure of Literacy across the school and how well it seems to be implemented – we should look forward to seeing the results of this at the end of the year. The reading maps, as I was explained, appear to be a great leveller to help get children up to speed as they come in to the school. The children learn a set of stories across the year and learn to tell the story through actions and pictures. This enables them to break the story down and make changes to alter the journey of the story or the characters – the basis for story writing. Bonnie told me how this was beginning to improve the children's writing as a result – certainly something to measure and discuss the effects in comparison to previous years as writing is notoriously an area of development. Bonnie and I discussed how this could be shared with the parents to help with consistency at home, I understand there has been an idea to use Tapestry to this end.
Objectively, whilst I can see the benefit of the Literacy framework, and the freedom and trust allowed to the teachers by Elaine to use the curriculum creatively, a good discussion point for the next meetings would be the findings and hopefully we should see some solid evidence by the end of the year.
I would like to finish with my thoughts on how happy the children seem to be in school. This was typified for me was when I asked a little Olivia what her favourite thing about coming to school was. Now bear in mind we were stood outside at this point, with all manner of exciting toys and role play areas to be in and play with; without a second's hesitation, "Writing," she said.